Sticker Sheets (kiss-cut) (Paperback Stickers)
Instant Price & Order Online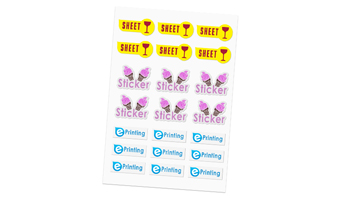 Sticker Sheets
What are Sticker Sheets?
Sticker sheets are individually cut pages that contain several kiss cut stickers of various shapes and designs across each page.
Sticker sheets can be printed to any standard size (A4, A3, A5, A6) or custom cut dimensions.
Your sticker sheets will be supplied individually cut, with the stickers kiss cut over each page.

How to print Sticker Sheets?
Supply your sticker sheets as a PDF containing three pages:
1. Print Page:
Your sticker sheet print page including 3mm bleed with no cut lines.
2. Cutline Page:
Cut lines should be supplied in 100% K (black) with a 1mm path for each sticker on page

3. Review & Guides Page:
The cut lines imposed over the print layer as a guide to ensure all cuts align.
Sticker Sheet Stocks
Sticker sheets are printed on a traditional paperback stock method using dry toner and our standard stocks are Paper Laser & White Gloss. We also stock a Matt Synthetic and Clear Synthetic which are water and tear resistant.
Sticker Sheet Embellishments
We can celloglaze your sticker sheet designs with a Matt or Gloss Celloglaze, add Hot Foil in Gold, Silver, Rose Gold, Blue, Red or Green or a Spot Gloss.
Sticker Books
ePrint can even staple or bind sticker sheets into a flip book. This is great for kids parties or barcode printing whereby the sticker sheets are kept neat and safe in a bound booklet.
You may also be looking for: