Booklets Saddle Stitched (Booklets (Saddle Stitched))
Instant Price & Order Online
Product Review
A5 booklet printing

Fantastic service, quick turnaround and high quality products! I got 15 A5 booklets with text and photos made for a family celebration. I sent a PDF of what I wanted printed and it was done perfectly. I would highly recommend this company
Amazing quality and service

I am incredibly impressed with the service provided by ePrint and the quality of the end product. The staff were incredibly helpful and the online chat function is great.
Booklets

Fast turnaround and good print
Booklets

Fast turnaround and good print
Booklets

Fast turnaround and good print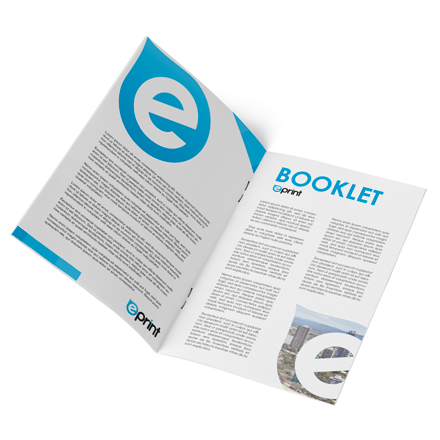 Booklet Printing Australia
Booklet Printing Brisbane (Australia)
Booklet printing takes place in our central hub in Brisbane.
ePrint are Brisbane's leading booklet printing company but we also ship interstate and Australia wide.
---
Saddle Stitch Booklet Printing
Saddle Stitch Booklet Printing is an ePrint specialty. We print booklets in the saddle stitch style which are half folded and stapled on the spine. Our booklet printing quality is unbeatable with our anti-crease square edge in line spine. This booklet finishing type gives the best possible result with no cracking at the spine and also no page creep.
---
Same Day Booklet Printing
We know that sometimes your order is urgent, so since our booklet printing is digital, all our booklet styles can be ordered for a SAME DAY production. Therefore, there are no minimum quantities and all booklets can be printed urgently and either picked up from our Brisbane store or we can have them delivered via your choice of courier service.
---
Magazine Printing
Magazine printing would typically be done using gloss or satin internals with a thicker cover. These premium booklets give you a professional finish with shine and impact.
Product Catalogue Booklets
Product catalogues are usually best printed again with a satin or gloss internals but as a self cover booklet. Self cover booklets are defined as a booklet with matching paper stock for the cover as the internal sheets.
Cheap Booklet Printing
Cheap booklet options are also available in self cover or thicker wrap around covers. This budget booklet option gives you uncoated paper on 100gsm internals with the added option of 200gsm thicker covers.
Custom Colouring Book Printing
Colouring Book printing for self published or short run colouring in books are also now available with 150gsm uncoated paper which give the user the ability to colour the pages without bleeding through to the other side. This is achievable with thicker than standard photocopy paper but also ensuring the uncoated option is selected to allow for writing or colouring on.
Recycled Paper Booklets
We also offer booklets in our envirocare range with 100% recycled paper stock for internals and covers. Eco Booklets can also be printed self cover 100gsm Recycled and uncoated or with a thicker 300gsm Recycled card stock.
---
| | |
| --- | --- |
| A4 Booklet Printing | A3 Half Fold & Duel Staple |
| A5 Booklet Printing | A4 Half Fold & Dual Staple |
| A6 Booklet Printing | A5 Half Fold & Dual Staple |
| DL Booklet Printing | Finish Size: 99 x 210 |
| Square Booklets | Finish Size: 210 x 210 |

ePrint Brisbane - Printing Specialists
You may also be looking for: