Pull Up Banner Stands (Double-Sided) (Banner Printing)
Instant Price & Order Online
Downloadable Templates
Download free templates to assist you in creating your artwork.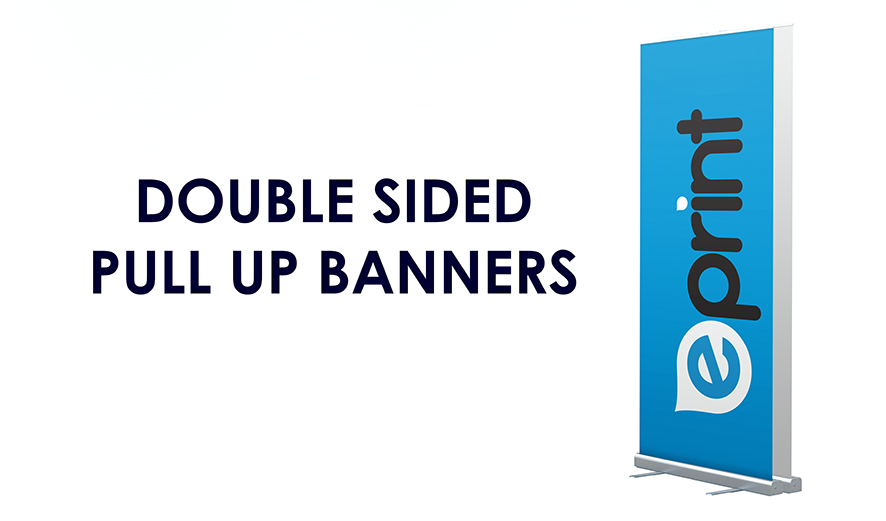 Double Sided Pull Up Banner
ePrint can print Double Sided Pull up Banners within

24 hours
Please contact us before ordering if you require larger quantities in a short time.

Printed in Brisbane
Composite multi-layer synthetic stock with a polyester core for stability and stay flat performance
White low-glare finish on both sides for a high quality silk like finish
100% block out performance avoids unattractive shadows (from behind e.g. stand pole) distracting from the image
ePrint print and assemble the pull up banners in our Brisbane office. The Banners are printed with UV inks and come in a Carry Bag
U
pload print ready artwork or,
Contact us to talk to a designer
Delivery details are addressed,
during your online order
A free customer carpark is also available
Online secure ANZ gateway,
accepts all Visa and Master Cards Or
Request and invoice - Contact us before placing order
Product Review
Double Sided Pull Up Banners

These are the best Double Sided Banner Stands
Pull Up Banner Printing Double Sided

Really happy with our Double Sided Pull Up Banner - didn't think they were possible!
You may also be looking for: