Name Badges (Trade Shows)
Instant Price & Order Online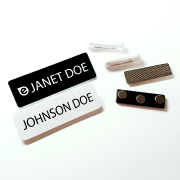 Name Badges
Colour or Black and White
Artwork
Upload Print ready artwork
Delivery
Free customer parking or
Courier or Post
Online secure ANZ gateway,
accepts all Visa and Master Cards
Request and invoice - Contact us before placing order
We print business cards in Newstead. We can have your business cards ready within 24 hours.
Step 1 - Sign up
Step 2 - Select products and then select business cards.
Step 3 - Select the quantity and finish of your business cards.
Step 4 - Either upload your print ready artwork or you can design your card for free online.
Step 5 - Pay for your business cards and give us the delivery address or you can collect your cards for free at our office.
You may also be looking for: