Brochures A3>A4 (4 page) (Flyers & Brochures)
Instant Price & Order Online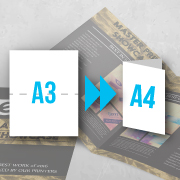 Brochures A4 size 4 panels
Printed A4 size Brochures within 24 hours.
A3 with 1 folds to create 4 A4 panels

150gsm Bond Art (FSC) Throughout

Printed with our new Digital Press (Installed July 2016

)

Designers Available to help with artwork
Customer Comments
There is a customer comments section (after the file upload) where you may add any special requirements such as deadlines and any other vital info required.
A4 Brochure Design
If you don't have a print ready file to upload, our designers can help. Email your ideas to design@eprintonline.com.au and we will give you an estimate.
P: (07) 3866 9600 l F: (07) 3866 9699
Inky's Building: Unit 2 / 101 Newmarket Rd, Windsor, Q 4030
Post: PO Box 289, Wilston Q 4051
shop@eprintonline.com.au l www.eprintonline.com.au
You may also be looking for: