Playing Cards (Playing Cards & Board Games)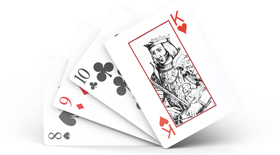 Instant Price & Order Online
You may also be looking for:
Custom Playing Card Printing
Fully customize a deck of playing cards
(suited cards or custom cards)
Custom Playing Cards Both Sides Printing
Fully customise both sides of your playing cards with our easy to use online ordering system. This product is setup for you to be able to easily order your custom Playing cards with standard the option for "suited" deck faced designs for poker cards, bridge cards etc. Our online calculator offers you a simple click and online order for personalised playing card printing. Select our standard suited playing card front designs or select custom fronts.
We offer a very helpful free online design tool with suited playing card templates for you to customise yourself. This minimises the need for expensive design programs or paying a graphic designer to make your playing card designs. See our customisable suited poker or bridge card deck printing template, simply click customize and design away!
Order Custom Playing Cards Online:
Step 1: First select your size: Traditionally, suited playing cards come in two standard sizes:
Poker Cards (2.5 x 3.5 inch)
Bridge Cards (2.5 x 3.5 inch)
Step 2: Enter your deck quantity (no minimum order)
Step 2: Select the right amount of cards per deck
- up to 18, up to 36 or up to 54 cards per deck
Step 3: Standard 4mm 4 corer rounded edge cutting or straight cut
Step 4: Choose from our playing card stock options
- Casino Core (black core), 300gsm + cello-glaze or 350gsm + cello-glaze (matt or gloss)
Step 5: Choose from our standard suited card fronts or custom design fronts
Step 6: Select Metallic printing and if you require custom or standard art tuck boxes or none. We offer individual plastic shrink wrtapping of sets if tuck boxes are not needed.
Step 6: Upload Artwork for the back design and separately upload the fronts. Or, if your design goes FRONT, BACK, FRON, BACK these files are accepted also.
Please however ensure your files have 3mm bleed when printing colour to the edge.
Make your own suited playing cards
We recommend suited playing cards be printed to the 310gsm Casino Classic stock. The black core protects the face card from being read on the other side. If you were to hold the cards up to a light you will not be able to see through.
Other than casino core, we also offer 300 and 350gsm playing card stocks with a Matt or Gloss cello-glaze coating as standard. This celloglaze helps to protect the card face from any scratches, wear and tear they might receive when being often handled.
Playing Card Printing in Australia
Unlike other online retailers, we are based in Brisbane but ship Australia wide. Our no minimum quantity ordering system allows you to order what you need without setting up bulk runs through off shore manufacturers.
Because of this, ePrint are fast becoming a favourite and competitive brand for deck printing. As an honest and approachable fully Australian owned family business, we have the customer servcice advantage in comparison to other brands who market themselves in Australia but print offshore. 100% of our products are printed digitally in house and our packaging options are manufactured in store too.
Since we print digitally, you can take advantage of requesting a sample first or a faster deadline. Again, rivalring other manufacturers who have longer turn arounds longer than a week.
Also, ask about our digital templates too. These can be arranged for you just for the cards or also custom design tuck boxes and other gaming packaging solutions.
Downloadable Templates
Download free templates to assist you in creating your artwork.
| | |
| --- | --- |
| Poker Cards (64 x 89) | |
Product Review
Absolutely fabulous deck of cards!

I cannot say how happy I am with how my cards turned out - the printing exceeded my expectations. Your staff, particularly Jack C was fantastic and communicated with me along each step. Thanks heaps Jack! I ordered 50 decks and will most likely be back for more! Couldn't be happier.
Custom Monopoly Cards

Thanks, order received and looks really good!
Customised Playing Card Deck Printing

Finally received the cards and said they look fantastic, so happy. (repeating order now)
Custom Front & Back Playing Cards

I picked up my order and it was perfect! Thankyou!