Lawn Bowls Stickers (Vinyl Stickers)
Instant Price & Order Online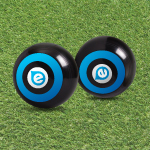 Lawn Bowls Stickers
We print lawn bowling stickers for all the lawn bowls clubs in Brisbane.
The bowls stickers come as a set of 4 stickers and consist of a large ring for the outstide of the bowl and a dot for the inside.
We can design your bowls stickers for you or you can send us your design. Talk to sponsors about adding their logo to the bowls sticker design
You can order as little as 15 sets of stickers at a time. Please contact me if the quantity you require is not listed and we will have it added for you.
Barefoot Bowls Brisbane
We can also print plain coloured stickers. Bowls clubs often add different coloured stickers to the sets of lawn bowls which makes it easier for the new bowlers to keep an eye on their set of bowls.
Another idea is we can add a name to the sticker eg
Dirty Harry
Destroyer
ect
and on the other side we can place the word in.
A popular club to play barefoot bowls Brisbane is Brighton Bowls Club
You may also be looking for: