Greeting Card Printing (Cards)
Instant Price & Order Online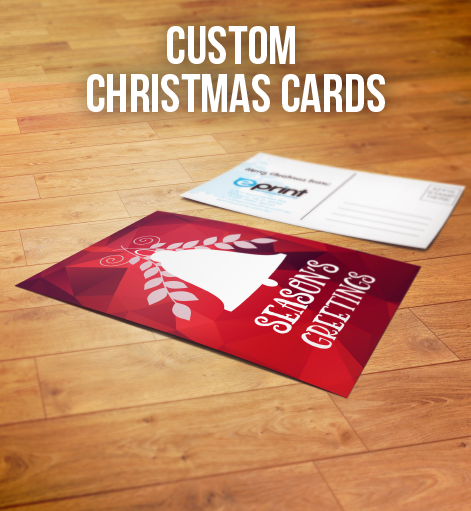 Custom & On Demand Greeting Card Printing Australia
Greeting Card Printing Australia

We offer solutions for all styles of custom greeting cards printed here in Australia.
Printed urgently for all holiday seasons, our greeting card printing services will be sure to bring the best for 2021!
Printed at ePrint's central hub in Brisbane, we ship Australia wide and offer same day delivery to all Australian states and territories.Our greeting card materials are sourced locallay to keep profits in Australia which goes a long way to keeping our economy strong.
---
Printing Greeting Cards From Original Artwork Australia
ePrint offer a full range of printing solutions for printing Greeting Cards from personalised or original artwork. We use a digital printing press so all artworks can vary with no minimum orders allowing for a cost effective solution for your small niche card printing.
Printing from your Original Artwork and Custom designs requires you to submit your artwork in PDF form with 3mm bleed. This bleed helps to ensure your oringial artwork gets printed as you intended and are happy with the final result.
We also offer a discounted sliding rate per hour on our printing to also cater to the larger runs, again making ePrint a cost effective print solution for your greeting cards.
Digital printing has come a long way when compared to offset printing, we use the latest CMYK printing technology and UV inks for a perfect original finish.
---
Print on Demand Greeting Cards &

Textured Specialty Greeting Cards
Being digital print specialists, we cater to all on demand and tight turn around greeting card orders. We offer Same Day print solutions as card card-body as a wide range of card stocks to suit any look and feel to suit your needs. We off a flexible stock range too which allows for full customisation to whatever your demands require.
Our card stock range includes standard cards such as 300gsm Satin or Gloss, 300gsm Bristol which is a Bright White uncoated stock, or our most thick card stocks of 350gsm Artboard (Gloss or Matt) and even up to 400gsm on our HD Premium.
We know greeting cards are supposed to be special, so we have installed an extensive Our specialty & Textured Stock range to help cater for any look and feel. We offer 225gsm Kraft / Buffalo Board for the natural looks, we have a 270gsm Mohawk Superfine Eggshell in white and cream, Linen stocks at both 280gsm or 350gsm Linen and also a Metallics & Parchment Ranges
---
Greeting Card Printing Sizes
Greeting Cards can be printed to standard sizes or custom size. The Standard greeting card size is about A5 half folded to A6. The sizes you see in the images are the half folded finish size. If you want a custom greeting card print run, simply select custom size, and enter your length & width in mm for the flat sheet size. eg if you want a 150 x 150 square greeting card run, you would enter 300 x 150 and ensure half fold is selected in the menu.
---
Foil Greeting Cards
We offer digital hot foiling for greeting cards in Gold foil, Silver foil, Rose Gold foil but also Blue, Green & Red foil. For all our foil options, please see our foil guide:

DOWNLOAD FOIL GUIDE
---
Custom Shape Greeting Cards: Diecutting!
Your greeting cards can be cut to any shape and size with our diecutter. Simply upload a separate hairline file as your cut shape.
You may also be looking for:
Product Review
Excellent product & service

The quality of the product is exceptional and our questions were answered really quickly. Thanks!
Happy with my large cards.

Thanks for the lovely printing job on my A5 cards. They look terrific and the stock is good. I would love to be able to choose a lovelier stock for the envelopes too. Thanks for a great job.