Fence Mesh Banner Printing (APPROX. 3-5 Business Days) (Banner Printing)
Instant Price & Order Online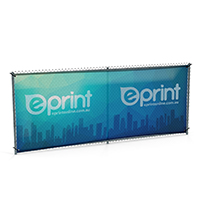 High Strength Fence Mesh Banners
Printed on our most popular outdoor banner material
For a specific price on the size of your banner, please use our price calculator.
Material Overview
305gsm High strength mesh
Suitable for both indoor and outdoor use
Building and construction site wraps, tradeshows, and in-store display
High-quality full colour print
Standard finishing included
Printed with Solvent UV-based inks
Weather Resistant
Works best for windy conditions
Each banner is printed and finished to your requirements.
Our banners are versatile and it can be used for almost any marketing purpose.
Hemmed with Eyelets
Banners will be given a welded hem, then eyelets at equal distributions along the hem.
The standard distribution of eyelets is one per metre. If you require a different distribution or specific placement of eyelets, that's no problem at all - simply let us know what you need when you place your order.
Artwork
To help ensure your artwork is processed quickly and without any problems, please refer to our artwork requirements https://shop.eprintonline.com.au/design_guide.html or email design@eprintonline.com.au for:
Checking Files
Need Graphic Design
You may also be looking for: