Pull Up Banner Stands (Single-Sided) (Banner Printing)
Instant Price & Order Online
Pull Up Banner Printing
Choose ePrint for the best service on urgent orders.
Pull Up Banner Printing Brisbane
ePrint are a very well known and trusted brand in Brisbane for all printing and print marketing needs. We have a long list of very satisfied customers and a database of previous order contacts in the thousands. Brisbane (and even Australia wide customers) choose ePrint because they know we are an approachable small business who work with you to get your desired result.
One of the many practical print products we offer is Pull Up Banners or Banner Stand Printing. A pull-up banner is a type of retractable pop-up display that can be used for exhibitions or information banners. They come with your choice of base where the banner itself retracts and winds itself up inside. Simply erect the catcher stand, pull up the banner from out of the base and attach to the top hook.
The fact that these are retractable makes it easy to transport the banners easily to each event. They can also be used as side wings for stage performances, and can be a professional influence for any show. The banner bases come in a few styles, there are cheaper bases and premium bases. ePrint print and assemble the pull up banners in our Brisbane office, are printed with UV inks and come in a Carry Bag.
---
Pull Up Banner Stands Online
Get your banner stands printed with ePrint online. Order Online today to take advantage of our premium base display banner prints.
Worried about shopping online? Don't worry, we have a plenty of years experience in print and are constantly receiving positive feedback and reviews on just how good our online service is.
We have worked for years refining our signage services in the Brisbane printing market but are now branching Australia wide in a bid to spread the ePrint effect.
---
Pull Up Banners Dimensions, Size and Info
Pull Up Banner Dimensions & Size Comparison
We offer four sizes of pull up banners, Small, Medium, Large and an Extra Large. What size of pull up banner depends on your need. Here is a breakdown of the Pull Up Banner Sizes we print which are the standard sizes for Australia: (the width is the size of the base, and the height is how large the display stands when protracted)
| | |
| --- | --- |
| SMALL | 600 x 1600 (mm) - width x height |
| MEDIUM | 850 x 2000 (mm) - width x height |
| LARGE | 1000 x 2200 (mm) - width x height |
| LARGE WIDE | 1200 x 2200 (mm) - width x height |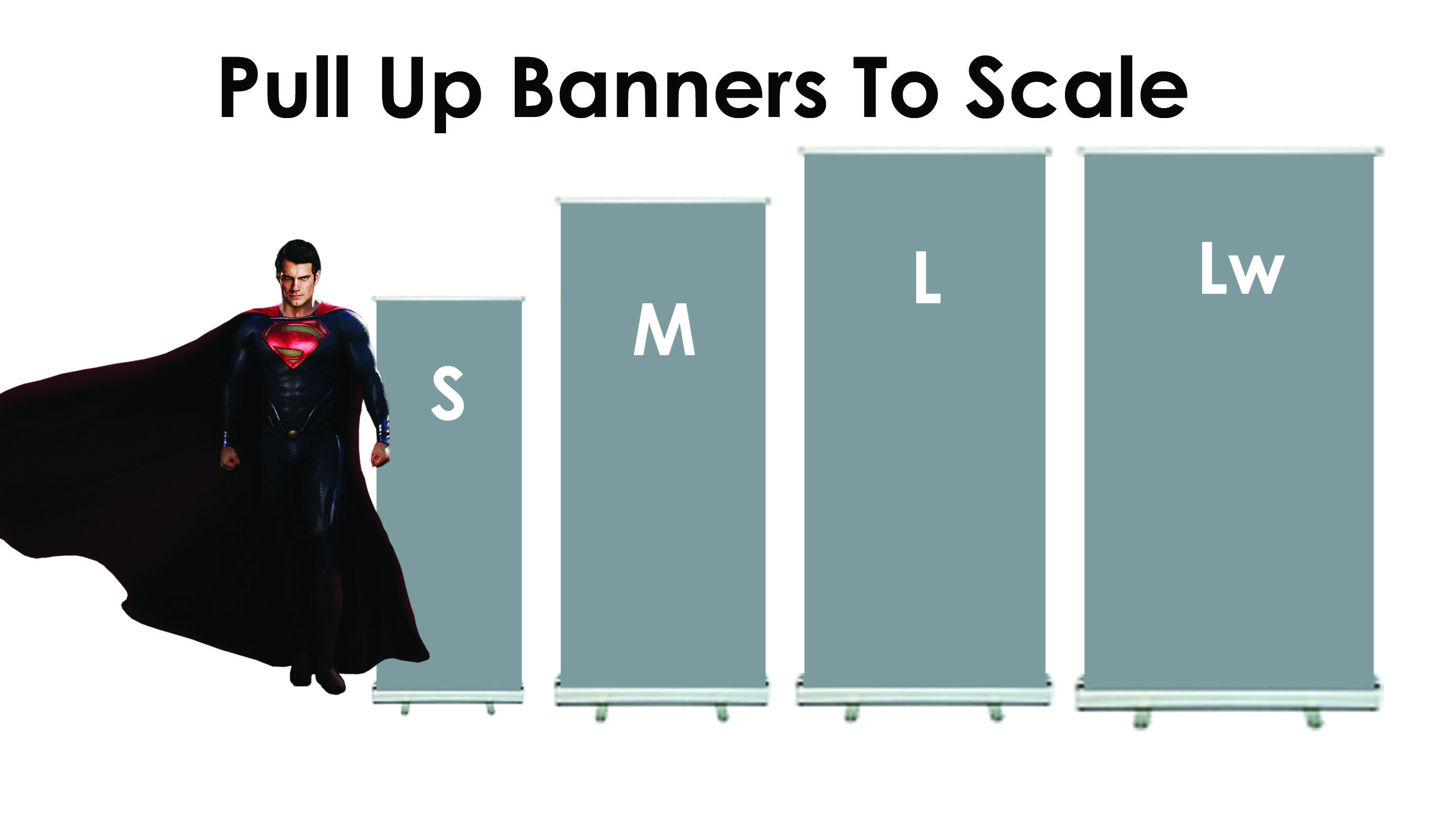 Scale Ratio: Henry Cavill Superman is 1.85m (185mm)
Display Vinyl Information (Material)
Composite multi-layer synthetic stock with a polyester core for stability and stay flat performance
White low-glare finish on both sides for a high quality silk like finish
100% block out performance avoids unattractive shadows (from behind e.g. stand pole) distracting from the image
Select from our range of Shippit courier options through the API service for the best courier delivery options.
Free customer car parking is available for Brisbane clients to come collect your goods when completed.
Product Review
Pull Up Banners Brisbane

I liked that I can pick up after business hours. Good solution for Brisbane based customers
You may also be looking for: