Game Card Printing (Playing Cards & Board Games)
Instant Price & Order Online
You may also be looking for:
Custom & Personalised Game Card Printing
Custom Game Card Printing for Personalised Card Games
Create your own card game from your own custom playing card designs. All custom Game Cards are printed locally in Australia at ePrint's central hub in Brisbane. Playing cards for games, playing cards with standard deck faced designs, poker cards, bridge cards etc
We Pri

nt from Print & Play supplied pdf's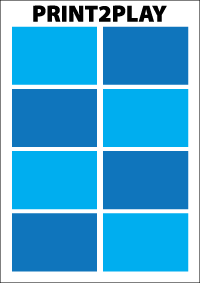 Many online playing or game card providers offer a Print & Play pdf download deck. You can use our Game Card printing service to convert those home jobs into professional quality print decks. Artwork adjustments would have to be made to the original files to split them as individual pages, but we can help with this step.
How to make a Custom Card Game?
Find the best price by changing the size and quantity to suit
Select from standard card stocks of 300-350gsm or try textured or specialty metallic stocks
Choose if you need a celloglaze coating (highly recommended to protect cards from marking)
Celloglaze also produces the best proffesional feel and finish and can be either - Matt, Gloss or Velvet
Use the File Centre to upload your predesigned artworks as one combined pdf or add all cards to a zip file - if you have no design capabilities, you can use our free online design tool to custom make your playing card designs (front & back any number of variations)
Confirm your options and pay online
Custom Board Game Cards and Token Printing
If you're looking to self publish, design or build your own custom board game, eprint can help bring your vision to life. ePrint can custom print game tokens and specialty game cards in any shape, style or size to suit all needs. We can print rounded corner playing cards or die cut board game tokens to any shape.
Novelty Card Game Printing
If you're looking to custom make a card game for a gift, our custom card game printing calculator can also give you the best options for small quantity print runs. Our card printing is done digitally which allows for any quantity card printing.
Self Publish Board Game Prototype Printing
We can help put together your board game or card game protoypes for self publishing.
Packaging & Game Card Boxes To Fit
We offer Tuck Boxes and 2 Piece Lid Boxes to fit your stacks. In regards to the boxes, the length, width and height of the stack will determine the dimensions of the box. This will be calculated for you and we will provide a custom template to fit. This can be arranged prior to order or after.
Downloadable Templates
Download free templates to assist you in creating your artwork.
Product Review
Fantastic Service for Game Card Printing

Had a fantastic experience with these guys to get custom cards printed for the megagames we run. The cards themselves were of very high quality, but they were also incredibly quick with their service. Will definitely be ordering from eprint for our future games.
Custom Drinking Card Game

Ordered several decks of custom Drinking game cards and have since reordered. Order included lid boxes!
Game Cards

The quality of the final product was beyond my expectations... vibrant, crisp images on quality card. Staff were friendly and went out of their way to be helpful to a first time customer. Thank you.
Round card decks

so happy with my new cards (giggle game) and comunication around design and speedy delivery thank you!
I couldn't be happier! Perfect product and service

What an amazing experience to order from ePrint! Their customer service prior to the order being placed was top-notch, and the quality of the cards I ordered was up there with those in my professionally published board games. I can't recommend them enough. A huge bonus is that they're a local business, not an overseas mega-corporation. I'll definitely be using ePrint again in the future.