Duplicate Books - B&W (Invoice Books (NCR))
Instant Price & Order Online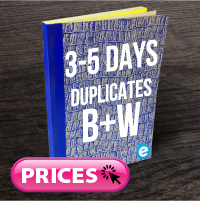 Invoice Books

(Approx. 5 Business Days)
Black Ink - Duplicates
Artwork
Please send us your artwork for invoice books or quote books. You can upload your pdf or jpg file. You can also upload word or exel but you wont be able to see a preview. You can email me your word or excel and I will convert to a pdf file We do have some free templaes available.
Invoice book layout
We generally use a blue or green hard cover for our ncr books. You can request a different colour or you can request a soft cover instead.
We use different colour carbonless sheet for the top and bottom sheets. The standard is to leave the Bottom sheet in, while the top sheet is perforated to tear out.
You can add an individual number that will be consecutive over a 50 or 100 set
We staple the sheets together and finish with binding tape and a glued in writting board.
Sizes available
Our invoice books are available in A4, A5 or you can request a custom size to fit in employees pockets
Quantity
We have listed quantities up to 20 carbonless books but you can request a written quote for any amount of invoice books. Please contact us with any questions relating to duplicate books, triplicate books or quadruplicate books
You may also be looking for: